We all use it – soaps that is…but have you ever thought about what's in it? I'd venture to say no. Truth is, the tendency to trust what's on the market is overwhelming. Between our exposure when we're out shopping (grocery stores, retailers like Wal-Mart or specialty stores like Bath and Body Works) or word of mouth from friends…we're exposed to soaps and soap products a great deal.
Even while we relax at home, we're showered (pun intended) with advertisements about feeling tingly clean and being refreshed like never before!
But when you stop to consider what a products that comes intimately close to the surface of our skin, really what do we know about what we're buying?
Take a Look at Your Labels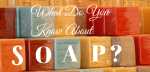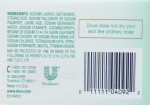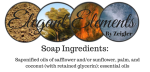 To the left you'll note a typical label you might find on a bar of soap in your linen closet. In fact, go get one of your bars of soap. It's okay, I'll wait here 🙂
One of the first things you should look for if you want to start scrutinizing ingredients in the products you use, is your ability to pronounce the words being used. If you're struggling with even how to say them, it's time to start investigating what these substances truly are!
In this example, words like:
Sodium Lauroyl Isethionate
Stearic Acid
Cocamidopropyl Betane
…are being used. I don't know about you, but I have no idea what this stuff is and yet I'm supposed to get my lather on with it?
 Let's Look at Some Chemicals
According to www.chemicaloftheday.com , Sodium Lauroyl Isethionate is used as a cleaning agent in most soaps. However you'll also note that it is known to dry out the skin and often is a skin irritant.
What is more disturbing though is that it is typically mixed with isethionic acid which is created by the mixture of sodium bisulfite and ethylene oxide which is a known carcinogenic.
Next we have Stearic Acid and we learn from www.mercola.com that it is basically a gel agent that would prove helpful in making a bar of soap maintain its shape. It also damages T cells which help maintain your immune system. 
Last up, author Tamara Laschinsky shares her research regarding Cocamidopropyl Betaine which serves as a lather component for soaps in general. And although it's nice to think of our soaps lathering (because that's what makes us feel clean right?), that same lather could be causing irritation of the eyes and lungs. 
In fact, when it is exposed to certain conditions i.e. high temperatures or acidic conditions, it has been know to manifest nitrosamines or carcinogenic material.
These are three random chemicals that I have selected from one label of soap. However it's worth noting that something we take for granted as being safe to come in contact with our skin is perhaps used too easily.
Due to the above, Barry and I are committed to learning more and in turn sharing it with you about soaps…what they're made from and what ingredients can truly be trusted.
---
Elegant Elements REALLY Has All Organic and Natural Products!
Take a look at our soaps here. …We're very proud of the NATURAL ORGANIC INGREDIENTS that go into making up our soaps, because we realize how important it is to trust what comes in contact with our skin!
Check in regularly for blog content that will further educate you about soap and what SHOULD be showing up on the ingredient list!